How to Use Groups and Components in Sketchup to Create a Fence

Components and groups are essential for modelling in Sketchup.  In this guest tutorial by Justin Geis of The Sketchup Essentials, you'll learn how to use them to create a picket fence.
---
Drawing a Picket Fence Using Groups and Components in SketchUp
a guest tutorial by Justin Geis
SketchUp is known for being one of the easiest to learn and most intuitive 3D modeling software on the market today. This makes SketchUp a great tool for beginners that are just getting started working in 3D.  However, without smart modeling strategies, it's easy for beginners to get themselves into trouble while developing their models. One of the most important modeling strategies for SketchUp users, both beginning and advanced, is the usage of groups and components in their models.
In this tutorial, we're going to focus on the time saving benefits of using groups and components to model a picket fence in SketchUp.
Let's go ahead and start by modeling one of the support posts for the fence. Start at the origin point of your model (the point where the axes intersect) and draw a 4 x 4 post (you can find more info on how to draw a rectangle with set dimensions in my SketchUp shapes tutorial). Extrude this post to a height of 3'0".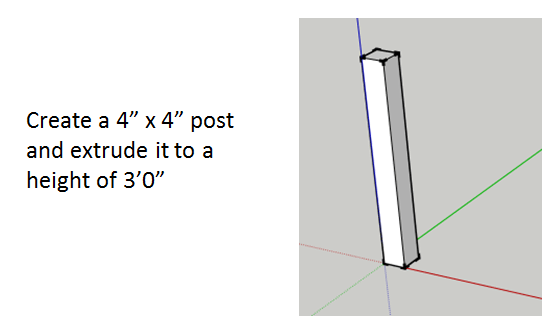 Now this is where smart modeling starts to come into play to save you a bunch of time later. Any time you create an object that you might want to edit separately later, make it into a group. Get into the habit of doing this EVERY TIME you create an object like this.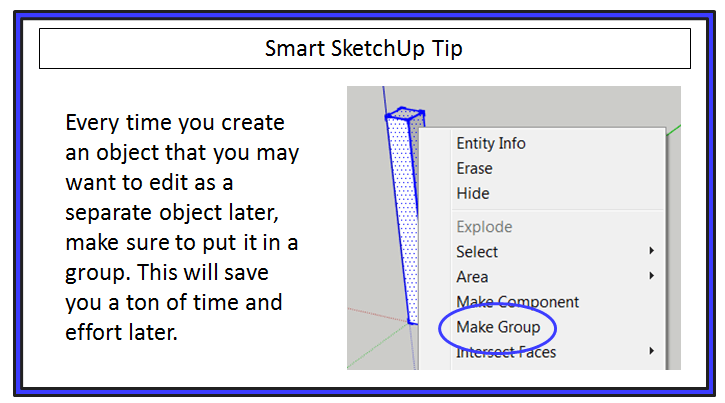 Now let's create our top and bottom supports. For each one of these, create a 4" wide x 2" high board. Extrude them to a length of 10'0". Make sure after you've done this to put your boards into groups. If you don't, you're going to have problems with the next step. Move a copy of your 4 x 4 support post to the other end of your fence support so that you have a 4 x 4 on each end of your fence. When you get done, your fence should look like the image below.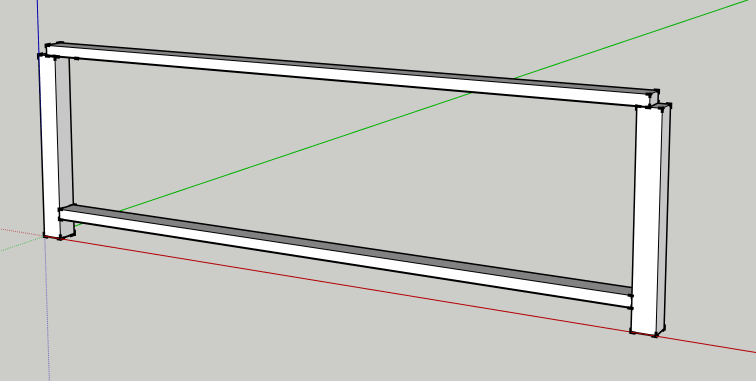 Now that we have our supports drawn, we're going to go ahead and draw our fence slats. In order to get the spacing we want, we're going to draw a couple guides. To draw guides, you're going to click the little tool up top that looks like a tape measure.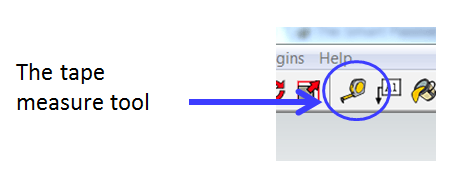 This tool allows you to create guides on your screen at certain lengths. Let's go ahead and set our guides on the bottom support.
After you've selected the tape measure tool, click once on the left edge of the front face of your bottom support. Move your mouse along the bottom of the board to show SketchUp in which direction you'd like to draw your guide. Once you're satisfied with the direction, type in 6" and hit the enter key. SketchUp will draw a vertical guide that looks like a little dotted line 6" from the edge of your 4 x 4 support.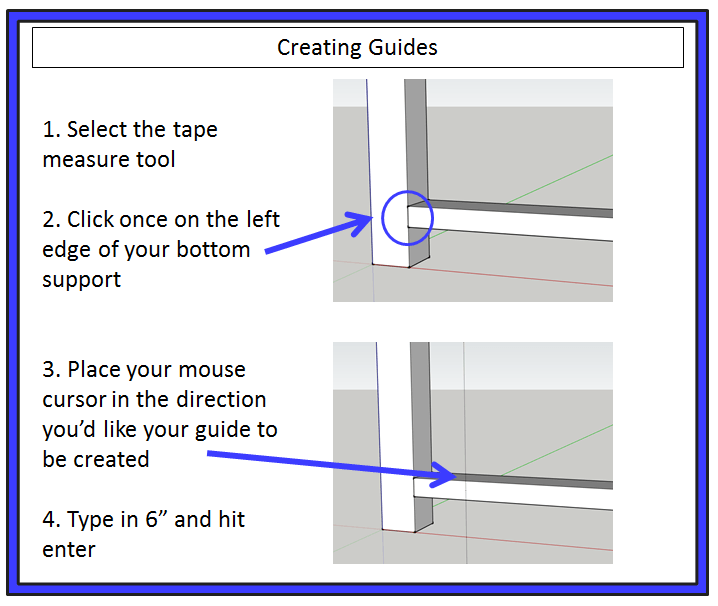 The nice thing about these guides is that they act like lines, but they don't interact or merge with any other model geometry, so they're very low impact. Go ahead and create another 6" guide on the other end of your support. When you're done, you should show two guides, one on each end of your model, like the image below.

Now we're going to start creating the pickets in our fence. We're going to do this by drawing an individual flat picket, giving it depth with the push pull tool, then making that picket into a component and copying it along our fence supports. This point is a great example of why it's important to put your various objects in groups to keep SketchUp from merging all your geometry together. If you went in and started drawing pickets and your supports weren't broken into separate groups, this process would be very difficult. For example, take a look at the image below. This is what the model would look like if your supports weren't in groups before you started drawing.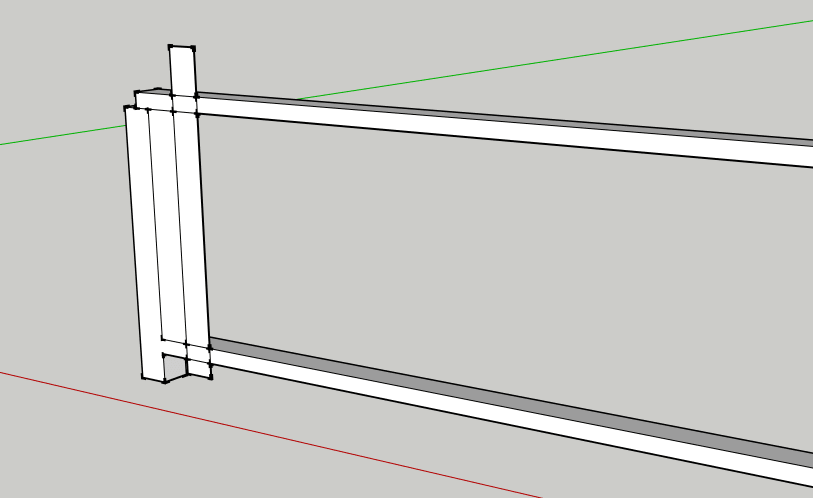 If you look closely, you can see that SketchUp merges the faces of the picket with the faces of the supports, it divides the picket face into several different faces, and it draws additional geometry between your picket and your 4 x 4 support post. All of this makes it very difficult to work with and edit your picket. However, if you divide your supports into separate groups before you start modeling your picket, this becomes a simple process. This is just one example of how planning ahead with groups in your model can make your life a lot easier down the road.
Let's start modeling our pickets now. Starting off at the bottom left intersection of your guide line and your bottom support, we're going to draw a picket that hangs 2" below your bottom support, is 4" wide, and extends 4" above the top support on your model. Use the line tool to draw this picket using the steps below.  For more information on drawing lines to a certain length, check out my tutorial on the SketchUp user interface.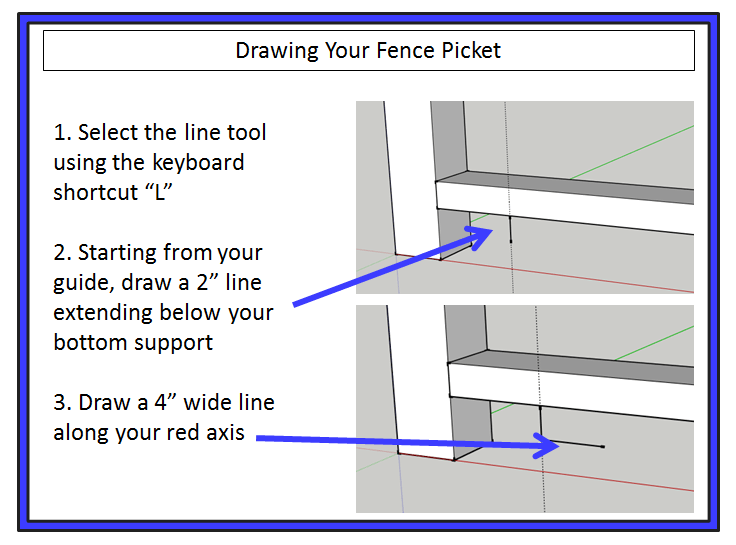 Now that you've defined the bottom of your picket, you're going to need to draw the top. Let's figure that the picket is going to extend 4" above your top support. Finish drawing the rest of your picket using the steps below.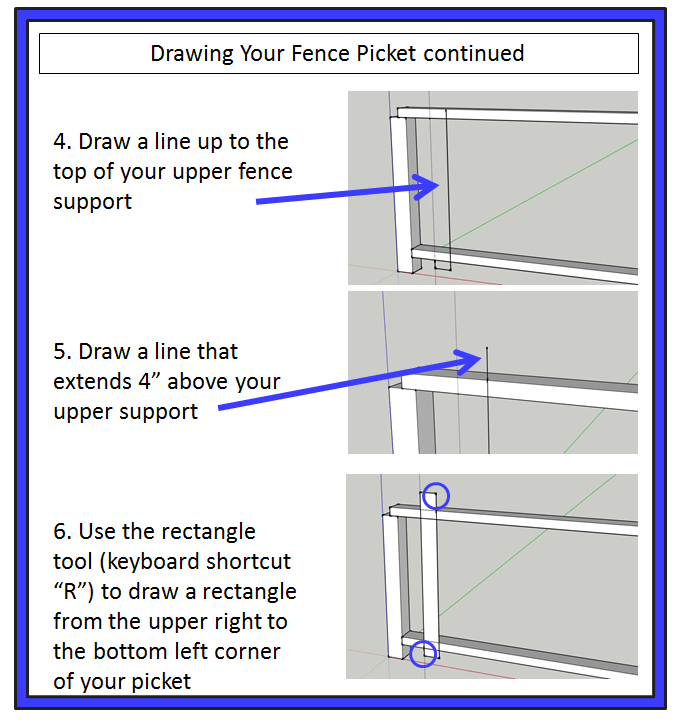 Now we've roughed out the dimensions of the flat portion of the picket. Let's give it some depth with the push/pull tool (keyboard shortcut "p"). Extrude your slat to a depth of 1". When you're done, your picket will look something like the image below.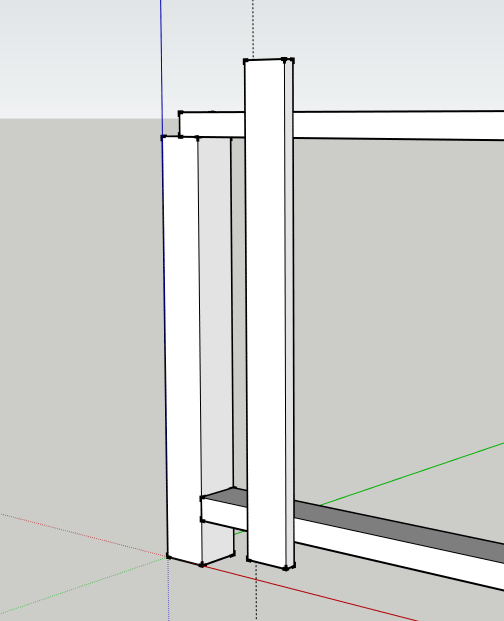 Now at this point, we're going to utilize the other grouping option in SketchUp – the component. The process for creating the rest of the pickets on your fence is pretty simple – you draw one picket and then you copy that picket along your fence instead of drawing each picket individually. However, what happens if you decide to change the way your pickets look? If you create each picket as a group, then you would have to go back and change each picket individually, which would be very time consuming.
If you create an object as a component, SketchUp links all the copies of a component that you make together. This means that if you create your fence picket as a component, then you make multiple copies of that picket, all you have to do is change one copy of this component and all the other copies change as well. Let's go ahead and walk through the process and you can see what I mean.
Start off by selecting your picket. You can do this by drawing a selection box around it or by triple clicking on one of its faces. Once you have done this, right click on your object. Instead of selecting "Make Group," select the option labeled "Make Component."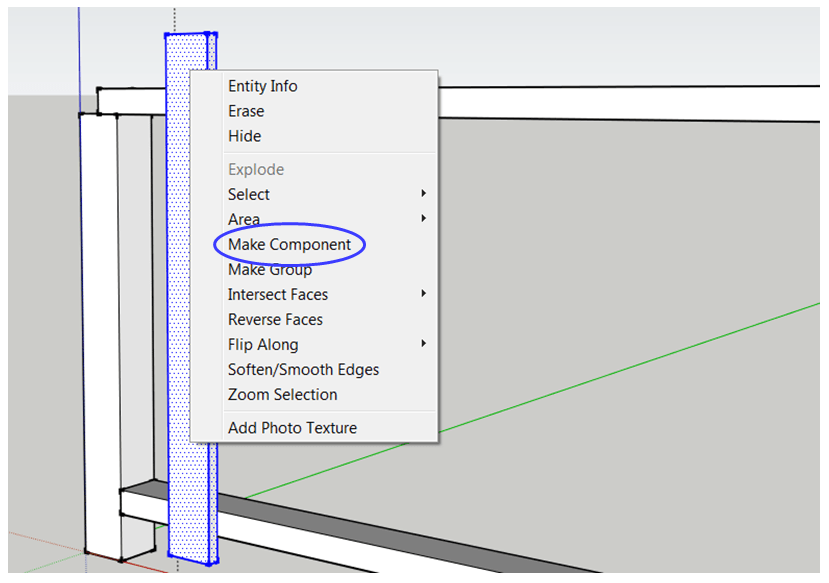 SketchUp will pop up a little menu box labeled "Create Component." There are a lot of valuable things you can change in this menu, but for the purpose of this tutorial, just fill in the "Name" box and click the "create" button.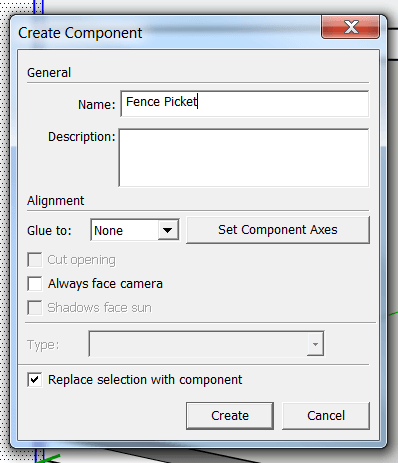 Your object will now look just like it would if you selected a group. Now what we're going to want to do is copy our picket along the fence. To do this, we're going to use the copy mode option of the move tool. Check out the following link for more information on creating copies with the move and rotate tools.
What we're going to do is move our copy to the other guide that we set earlier, then use the move tool's divide copy option to set equally spaced copies of our picket along the fence. Click once on your picket to select it, then select the move tool using the keyboard shortcut "m." Press the control key on your keyboard to activate copy mode. Now you need to click to set your base point. To do this, click once to select a point on the right side of your picket, then move your mouse over and click on your other guide that you created before. Finally, type "/10" on your keyboard and hit enter. What this does is create 9 evenly spaced copies between the copy you just set and your original, giving you a total of 10 new pickets.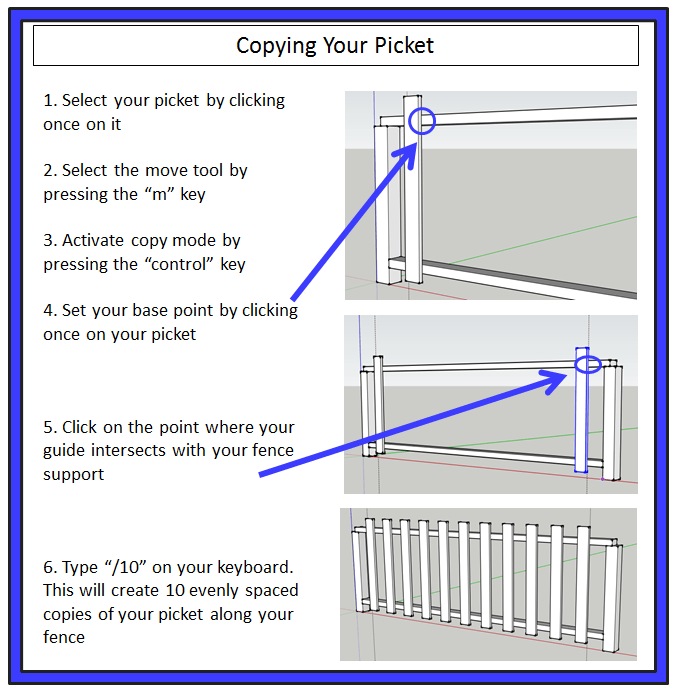 Now that we've created all the copies of our picket, I'll demonstrate the power of components in SketchUp. The pickets we have are fairly uninteresting, right? They're just simple rectangular pickets. There are a few creative things we can do to make our fence more interesting. First of all, I'd like for our pickets to extend further above the top support. Let's use the push/pull tool to make them a little longer. Double click inside one of your pickets to edit it (editing inside components works the same way as editing inside groups).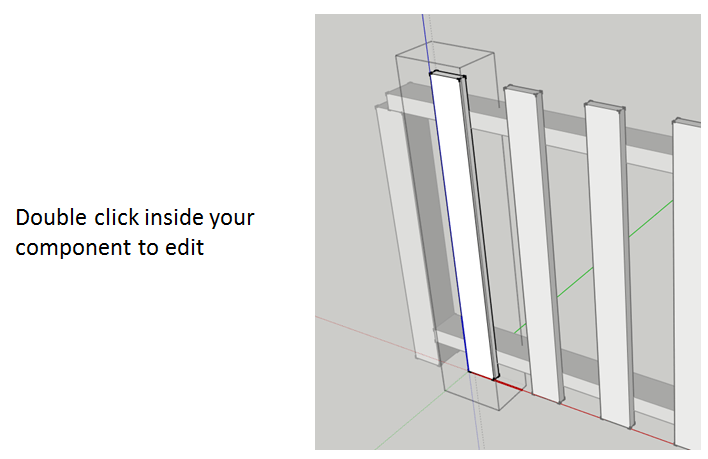 Use the push/pull tool to make your pickets extend 6" further above the top support of your fence. You'll notice that when you change one of your pickets, all the others change as well.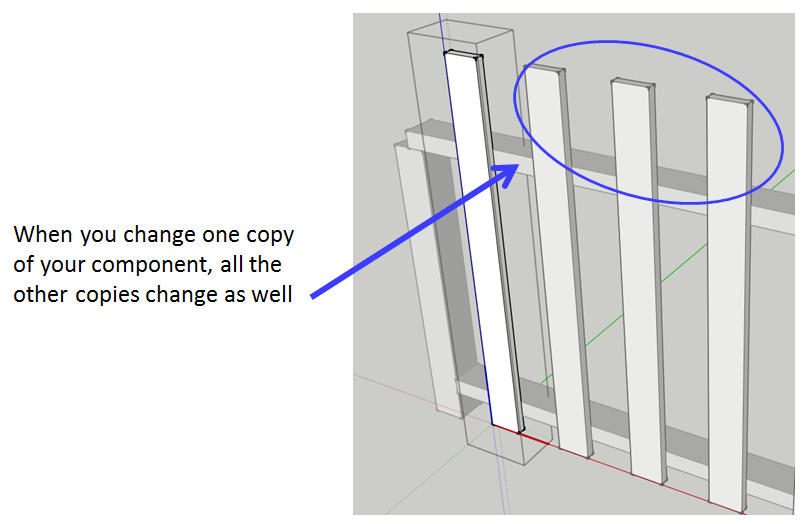 Now let's go in and give our pickets some shape. Using the arc tool, you can take your pickets to a point, then use the extrude tool to get rid of the extra material.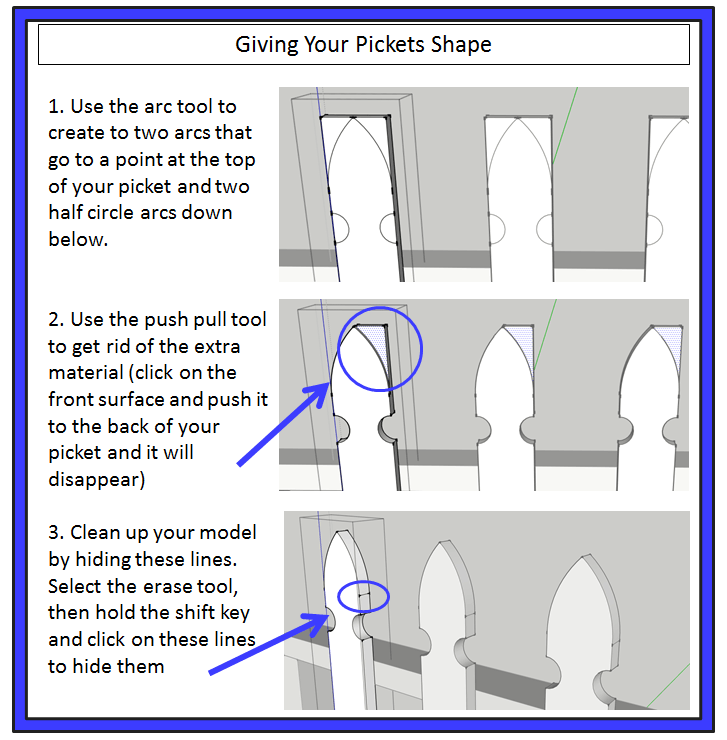 As you can see, using components is a very valuable, time-saving tool in SketchUp. There is one more aspect of working with components that I want to talk about. What do you do if you decide that you want to change some of your components, but not all of them? SketchUp has an option called "Make Unique" that allows you to take copies of components and break them off into their own separate component group.
Let's say that you wanted to take every third picket on your fence and add a hole to their tops to make your fence more interesting. The first thing you'd have to do is make these pickets unique. Please note, when you make components unique, they are no longer tied to their original components, so once you do this, if you edit one of your original components, the unique copies will not change with them. Select your pickets by holding the shift key and clicking on the ones you'd like to make unique. Once you've selected them, right click and select the option labeled "Make Unique."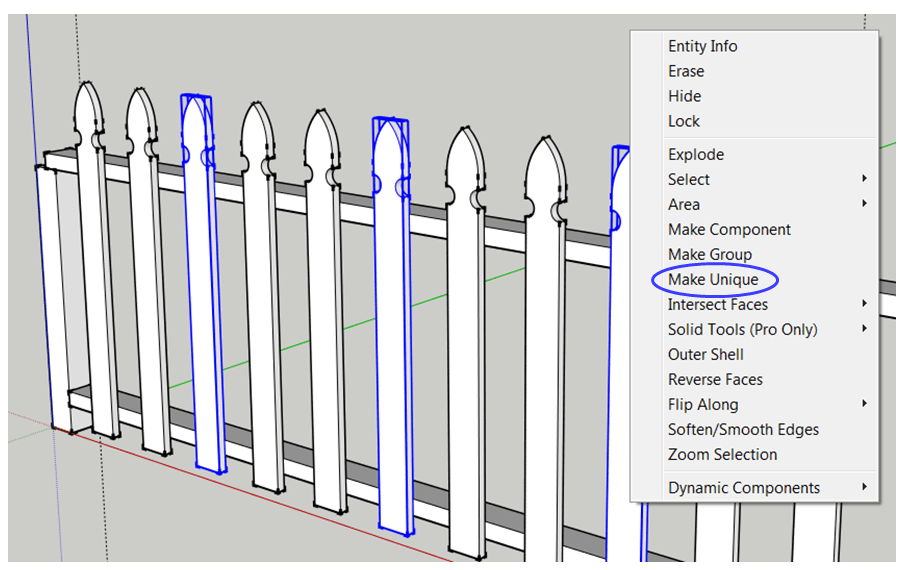 Now if you go in and edit one of these pickets, only the ones you had selected when you made them unique will change.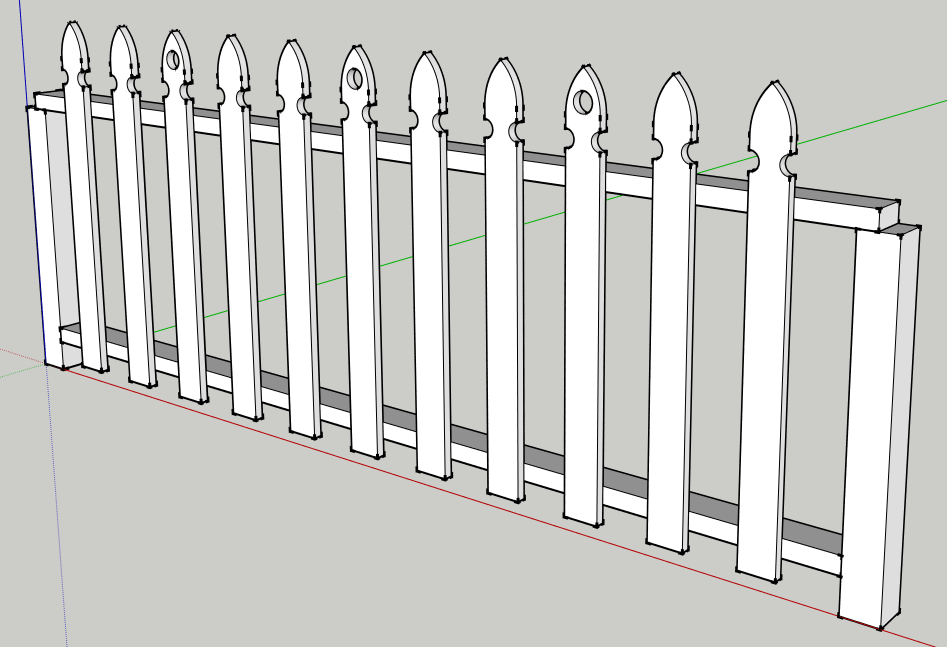 As you can see, modeling this fence is made much easier using the groups and components options in SketchUp. The biggest piece of advice that I would give to beginning modelers is to utilize groups and components in your models. This is probably the biggest thing you can do to save time when working in SketchUp.
---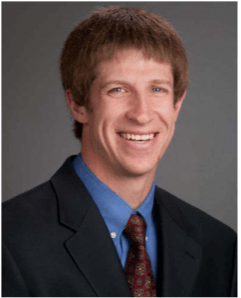 Hi, I'm Justin Geis, and I'm the founder of The SketchUpEssentials.com. I started using SketchUp as part of my work as a general contractor in 2008. I quickly realized the power of the software and started using it for personal projects. I started The SketchUp Essentials as a place to share easy to follow SketchUp tutorials and tips to help everyone harness the power of 3D Modeling in their lives. If you'd like to get ahold of me, you can do so on my contact page or on twitter. I'd love to hear how you're using SketchUp in your life!
If you liked this, you might enjoy the designer hacks library of sketchup tutorials.  If you're still not convinced on the benefits of groups and components, checkout this study on how groups and components affect sketchup file size.