Getting Started with Sketchup Using Videos

Want to know the first steps when getting started with sketchup? We think sketchup is one of the 5 best free tools for designers and we want you have the best resources are to learn it. We've gathered helpful videos from youtube to help you get off on the right foot. In no time you'll be modeling like a pro.
If you still need to download sketchup, no problem!  Head on over to our page that lets you know how you can get sketchup free!
From the horses mouth
Google and trimble have put together a bunch of tutorial videos tackling this very question. We've bundled the 10 best ones in a youtube playlist here. Or you can watch them individually.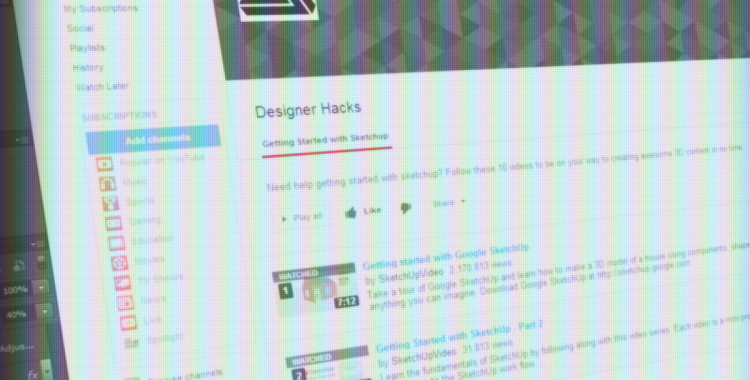 When getting started with sketchup… Just dive in!
The best way to learn anything is through practice. Take sketchup for a spin and just start clicking around. Give yourself a small project like modeling a table or a chair. Sketchup is a really intuitive program so it's easy to learn with little or no formal training! What's even better news is that's how most of the people we know learned it!
Use your resources
When you can't figure out how to do something, type your question into your favorite search engine. Since sketchup is free, there are a ton of people using it and a lot of questions have been asked and answered online. There have only been a handful of times that I've needed to use another program to model in. So if you can't do something, chances are there's a way. If you have a specific question, feel free to leave it in the comments below for us to answer!
Hope this helps! Sketch it up!
Have your own tips or resources for learning sketchup? Leave a comment below!